To err is human, but it takes a special kind of teamwork to screw things up enough to damage a company through social media.
This lesson comes to you as a cautionary tale. After lauding the benefits of generating user engagement and making a difference through CSR in previous lessons, we feel the need to remind you that the digital world can be a dangerous place for a brand, and that there's no such thing as too much double-checking before your campaign goes live.
While these examples all stem from Twitter campaigns, don't let that fool you: The same dangers lie in Instagram and Facebook campaigns (especially locally, with all those public Facebook groups growing by the thousands…)
User Generated Content
Ahh, the holy grail of social marketing. The art of getting people to promote your brand for free while building a solid foundation of good vibes between you and the public.
It's wonderful. It's something to aim for. And it's something that could turn into a PR nightmare if you haven't thought it through.
#myNYPD
Last year was a bad one for the New York Police Department. They were battling negative press from every corner of the States as a result of a few brutality cases, so the PR guys at New York's Finest had the bright idea of encouraging residents of the Big Apple to share some positive stories by using the hashtag #myNYPD.
They got the campaign going with this tweet:
At this point, you already know where this is going. The campaign backfired immediately and within a few hours, people from other cities had also joined in to tag their own police departments.
Here's some of the UGC they hadn't banked on receiving:
#McDstories
McDonalds faced a similar fate when their hashtag became a bashtag. Their hopes and dreams of generating heart-warming Happy Meal stories to inspire the masses quickly attracted the attention of, well, everyone on Twitter.
McDonald's were quick to react! They pulled the entire campaign within less than two hours, according to this report. Needless to say, that move was completely useless – the campaign kept trending for days.
The dream:
The reality: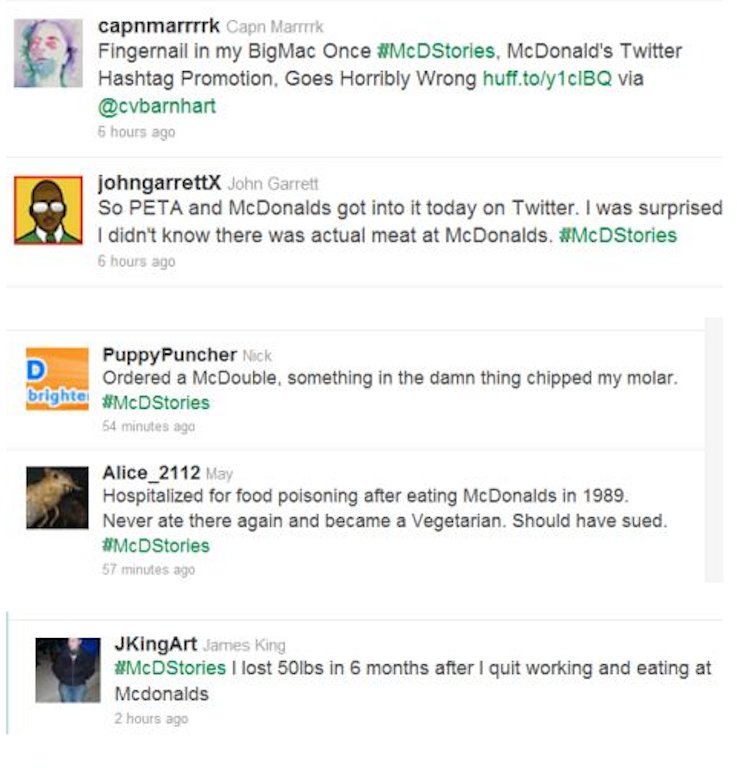 Moral of the story: Wishful thinking should never blind you from any potential outcome. When asking people to chime into a public conversation, remember that you will have no control over what could be said.
Does this mean you should shy away from any UGC campaign? Not at all. But before you get people to talk about your brand, make sure they absolutely adore you first, and that any hashtags you use can't be interpreted the wrong way and turned into something negative.
Corporate Social Responsibility
Here's a shocker:  despite evidence to the contrary, you don't actually have to say anything about every tragic event or disaster that comes along. If you or your company has a relevant message to deliver, go for it. If you're commenting just for the sake of commenting (or even worse, to try and make a quick buck off of back) – just don't.
Chiming in on disaster
Clothing giants American Apparel, Urban Outfitters and GAP all chose to voice their thoughts about Hurricane Sandy. That's nice.Problem is, all three of them tried to cash in on the calamity through their messages. Not so nice.
And then there's Kellogg's
They promised to feed hungry children, but only if you retweet.
Once again, here's why we should all triple check our work and imagine it being read from every possible angle before publishing it.

It seems that they decided to use the success of their "Give a Child a Breakfast" campaign to maximise their Twitter reach. Only the way they worded the tweet was a little disconcerting to their followers, and things got ugly soon after:
It's an easy trap to fall into, but whenever you're running any CSR initiative you need to make it appear as heartfelt and altruistic as possible, even if people know that there is some element of marketing involved.
Closing statement? Go forth and be awesome, but please be careful about it. Check your campaigns, promotions and every tweet you schedule from every possible angle – if you're smart about it, only good things can happen!